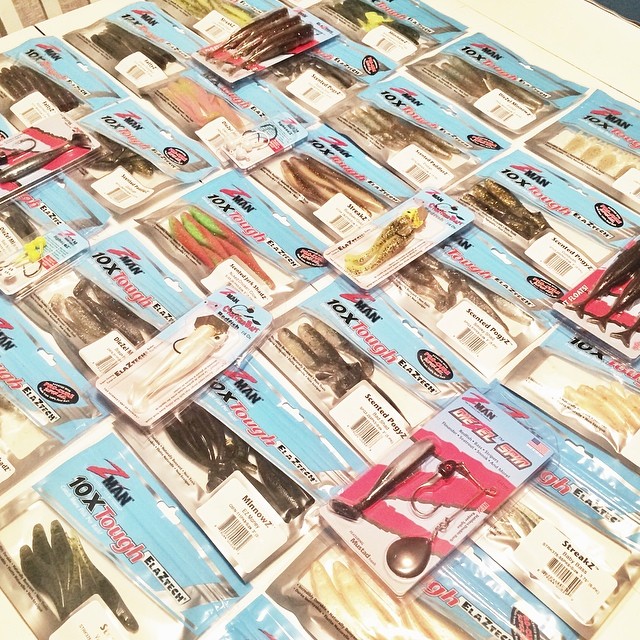 The New Age of Soft Plastics
Anyone that has ever been fishing, visited a fishing store or watched a fishing show knows what a soft plastic is. Whether it's a shrimp pattern, bait fish or bass worm everyone has seen some form of it – even if you didn't know what you were looking at. Growing up, I always used your basic run of the mill paddle tail or stingray tail like everyone else and caught a few fish on them.
Several years back, the scented soft plastics arrived and changed the game forever. The only problem with the scented baits were they wouldn't hold up fish after fish. It's a good problem to have but it can get very expensive when you go through 6 packs of baits a day. There were days I would go through more money on baits than fuel. But the fish loved the scent so I couldn't resist using them.
Now there's a new bait on the market that's changing the game again. Zman elaztech baits are made from a non toxic buoyant material that doesn't break or tear. They have a line of scented baits that are impregnated with Pro Cure bait scents which is another company that has changed the way we fish artificial baits. The scented baits of old were made from a harder plastic that had almost no action and just sunk to the bottom when it hit the water. The Zman elaztech baits are buoyant and soft so they swim down slowly with the best action of any soft plastic on the market. A big problem that I see with clients is that they over work the baits through the strike zone and don't get the bites.
Zman baits practically work themselves. When I sight fish in Louisiana I will tie on a 1/8 ounce rigging hook and put a zman scented shrimpz or paddlerz on it and let the bait do all the work. Just cast it right in front of the fishes nose and let it slowly sink down to the level. With the amazing action of the baits it's so life like the fish have to eat it.  The scented paddlerz have a segmented body with a paddle tail that swims naturally in the water without the angler doing anything but slowly retrieving it. I like to rig the scented shrimpz backwards on the same rigging hook and again with its buoyancy and lifelike legs it swims down just like the real thing. You can also blind cast with these baits just remember to let the bait do the work and not you. 
Around my local waters, my favorite time to fish is the late winter early spring bite when the fish are schooled up by the hundreds. You would think that when you have a school of 200 redfish 30 yards in front of the skiff that all that's left to do is get the grease hot but that's not the case. These fish are extremely spooky because of the clear low water that you have to downsize everything just to get a look. For this task I go to the streakz or the fattyz. These are typically freshwater baits that are not scented but during the winter months redfish are feeding on small bait fry or worms that they can dig up. They can get lethargic in cold water so they won't even attempt to catch a bait fish profile but if you can get a worm profile of small glass minnow bait under there mouth they will suck it right in. With the fattyz, just put it on a weighted worm hook and put it right in the middle of the school. Very gently give it a few jumps off the bottom and stop it and wait for the bite.
This time of year I always like a bait with green or brown to give the bait a natural look. Zman offers a product for any kind of soft plastic fishing you want to do but the paddlerz are probably my favorite followed by the shrimpz. However I've done well this year on the new scented pogyz. I always have a couple packs of them ready to go. They make a scented crab that has the best pincher action ever. It just looks too real for a fish to pass up.  With the 10x elaztech material I've literally fish all day on 3 baits and caught multiple fish per bait.
I fished a tournament in early spring where I caught 4 trout over 22 inches and about a half dozen reds on one bait and never had to change all day. I caught my personal best trout on artificial on an electric chicken paddlerz rigged on an 1/8 jig head. These baits just work. When tournament angling the last thing you want is to get on a school of reds and have to change baits after every fish. With zman I can catch multiple fish on one bait and never have to touch it when means more casts which equals more fish.
Go to zmanfishing.com and order some today. You won't be disappointed.